John Mayer's guitar gear is constantly changing, but he has a few core models that he always comes back to. This page features John Mayer's main guitars, including pictures and specifications for each.
1990s Squier Stratocaster
In the early 1990s, John Mayer was still a teenager when he bought his first electric guitar, a Squier Stratocaster. Before getting his hands on this Squier, Mayer used an acoustic guitar that he rented from a local guitar shop. Having a Squier as his first electric guitar allowed him to get used to the sound and feel of a Fender Strat, which eventually became his signature model.
John Mayer owned a standard Squier Stratocaster model with a black finish and rosewood fingerboard. There is only one photo of Mayer holding this Squier guitar, which he also shared on his Instagram profile in 2014. Mayer played this guitar between 1991 and 1993 before upgrading to a Fender SRV Stratocaster.
1996 Fender Stevie Ray Vaughan Stratocaster

Fender Stevie Ray Vaughan Signature Stratocaster
The Fender Stevie Ray Vaughan Stratocaster was John Mayer's first serious electric guitar. In 1996, John Mayer worked at a gas station to earn enough cash to buy this signature SRV model. He also traded in a Takamine 12-string guitar and a Mesa Boogie distortion pedal to afford the guitar.
Stevie Ray Vaughan was a huge influence on John Mayer. According to Mayer, a neighbor gave him a Stevie Ray Vaughan cassette when he was young, which led to his love for blues music and inspired him to seek out other blues guitarists like Buddy Guy, B.B. King, Freddie King, Albert King, Otis Rush, and Lightnin' Hopkins.
Released in 1992, the SRV Stratocaster was based on Stevie Ray Vaughan's favorite Fender, nicknamed "Number One." This guitar features a sunburst finish with a black pickguard and has Texas Special pickups. Like the earlier models, Mayer's SRV guitar has a double-cutaway solid body, rosewood fingerboard, and thick, oval-shaped maple neck.
Novax Expression
Although John was known for playing Stratocasters, he also played Novax guitars early in his career. In fact, a Novax Expression guitar was featured on the cover of his 2001 album Room for Squares. Mayer used this in the studio while recording the title track, and he also used this guitar live to perform a Neon, which has one of the hardest guitar riffs of all time.
The Novax Expression guitar features the brand's patented fanned (or multi-scale) frets. The angled frets allow the lower strings to have a longer length and the higher strings to have a shorter scale length, which improves the guitar's intonation and comfort.
2004 Fender John Mayer Signature "Black One" Guitar

Fender Custom Shop Limited Edition John Mayer Stratocaster Black One
John Mayer's "Black One" is perhaps the most widely known guitar model associated with him. This signature guitar is a 2004 Fender Stratocaster with a black finish, which he designed together with John Cruz, a  Fender Custom Shop master-builder. Since he was a kid, building his own custom guitar had been Mayer's dream, drawing up his own details for the Fender Frontline Catalog. It finally came true when he got his signature model in November 2004.
Mayer used this guitar on the tour while supporting his 2006 album Continuum. The body of this guitar is made of alder with a C-shaped maple neck and African rosewood fretboard. He took most of the specs directly from the Stevie Ray Vaughan Signature Stratocaster, his first-serious guitar from 1996. In addition, Mayer added specially designed single-coil pickups made to his own preferences.
The Black One guitar has a battered finish, making it easily recognizable as the instrument looks like it's been played endlessly. This was done purposefully to give it a well-worn look. He has used this guitar on and off as his main ax since he received it in late 2004, mainly in recording the 2006 album Continuum and touring for the album.
In 2010, Fender began producing a limited run of John Mayer's Black One Stratocaster that featured the same exact wear and distressed look as Mayer's personal guitar. They also had the same custom-wound pickups on John Mayer's guitar. Only 83 pieces of these were made, and you can find models being sold on Reverb.

Fender John Mayer Stratocaster Black 1
Fender also released the lower-tier model Black1, which was limited to 500 pieces. Unlike the original Black One guitar which has a distressed look, Black 1 guitars looked factory new. These models were also much more affordable compared to its predecessor. Some models of this rare guitar are sold on Reverb.
2004 Fender John Mayer Stratocaster Prototype

Fender Artist Series John Mayer Stratocaster Prototype
In 2004, John Mayer hooked up with Fender to create a signature Stratocaster. This guitar was likely a prototype for John Mayer's Fender Artist series, which became commercially available in 2005.
This guitar was based on the Stevie Ray Vaughan signature model that John used for most of his career. The most noticeable difference is the 180-degree rotation of the bridge and the pickups were replaced with a set of single-coils designed with the help of John Mayer, who called them "Big Dippers." Unfortunately, you can't buy these pickups separately, but you can buy a Signature Model guitar with them fitted.
The Fender John Mayer Stratocaster Prototype features an alder body with a thick C-shaped neck. Its African rosewood fretboard has a 9.5″ radius, 6105 narrow jumbo frets, and a 25.5″ scale length. Fender discontinued the production of this signature model in September 2014, shortly before Mayer announced he was parting ways with Fender.
If you want a cheaper alternative with a similar look and feel, try the Squier Classic Vibe 60's Stratocaster in 3-Color Sunburst. This guitar inspired by 1960s-era Stratocaster models is perfect for beginners.
Gibson '61 SG Standard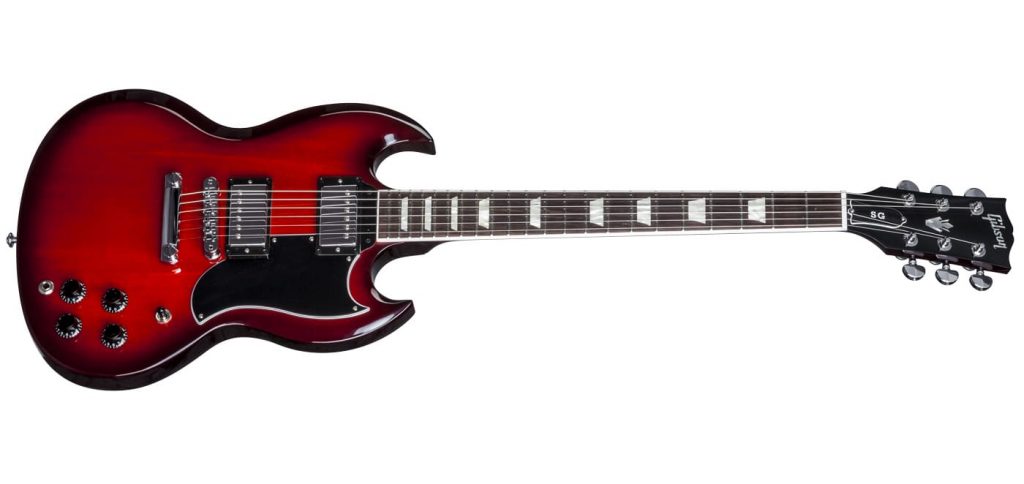 Gibson '61 SG Standard in Vintage Cherry Finish
John Mayer also used a Gibson '61 SG Standard for a while. He mainly used this model in his performances of Edge of Desire and Friends, Lovers or Nothing from his 2009 album Battle Studies. You can see him playing this model while performing at the Live on Letterman – John Mayer In Concert in 2009.
Mayer even admitted that it took him over ten years to finally try guitars other than Stratocasters. The '61 SG Standard with the vintage cherry finish was his favorite in 2009. It features the original slim taper mahogany neck, bound rosewood fingerboard, 5-ply teardrop pickguard, and a 22nd-fret neck joint. Its nickel-plated hardware includes a classic-style Tune-O-Matic bridge and keystone tuners, as well as 61R and 61T pickups.
1968 Fender Rosewood "Rosie" Stratocaster

Fender Custom Shop Rosewood Stratocaster
John Mayer's "Rosie" Stratocaster first appeared early to mid-2011, in which he was seen using it during the Tiger Jam All-Star Benefit Concert in April of the same year. He was originally offered the George Harrison/Jimi Hendrix's original rosewood Stratocaster, but he eventually decided that he'd just order a new one from the Fender Custom Shop, particularly from master builder Chris Fleming.
John Mayer's Rosie guitar features an all-rosewood body and neck that were modeled after a late '60s model, complete with a 25.5″ scale neck with a 9.5″ fretboard radius and medium-jumbo frets. The headstock and logo design are the same as those often seen in this period, while the pickguard was painted by Pamelina Hovnatanian to feature a rose flower, making it one of a kind.
2016 PRS Super Eagle

PRS John Mayer Limited Edition Private Stock Super Eagle
In 2015, John Mayer made the decision to switch from Fender to PRS. This was a big deal for even fans since he had been playing Fender guitars since his early days. Shortly after, John Mayer and Paul Reed Smith designed a limited-edition guitar called the "Super Eagle," Mayer's main guitar on tour with Dead & Company. The Private Stock Super Eagle was only available for a limited time in 2016, with only 100 instruments made.

PRS Silver Sky in Tungsten
The Silver Sky is a vintage-inspired instrument born in close collaboration between John Mayer and Paul Reed Smith. It's inspired by their favorite elements of 1963 and 1964 vintage instruments, and they intended to create a model representing an idealized version of a vintage single-coil guitar. The launch of this model was finally announced in 2018 after Mayer was spotted with one a year prior.
The Silver Sky has a "reverse" PRS trademark headstock shape, vintage-style tuners with PRS's locking design, a 25.5″ scale length bolt-on maple neck with Mayer's signature 635JM carve, and a 7.25″ fretboard radius. It also features a PRS tremolo bridge with a PRS trem arm, saddles, Gen-III knife-edge screws, three special PRS 635JM single-coil pickups, and precision-tuned electronics.
2022 PRS SE Silver Sky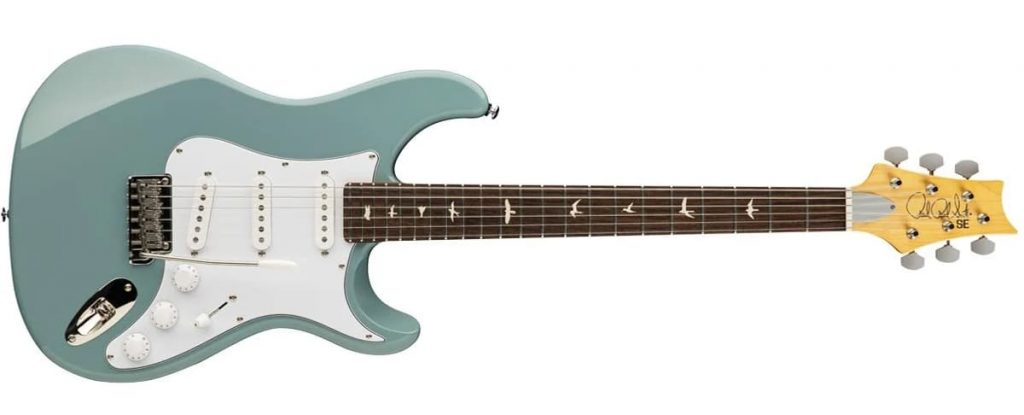 PRS SE Silver Sky in Stone Blue
The PRS SE Silver Sky, released in 2022, plays and sounds as good as the original model with John Mayer in 2018 but at a lower price. Available in four distinct colors, this model has a lightweight poplar body and a trio of 635JM "S" pickups. The SE Silver Sky's maple neck also has a slightly modernized 8.5-inch radius, keeping the vintage vibe of the original model but offering contemporary playability.
Now that you're well-read on Mayer guitars, it's time to check out some amps on the Amps page.