Pedals are a topic of hot debate in the Mayer-tone world, and it makes sense. Pedals are one of the easiest and least expensive ways that a guitarist can shape his or her tone, and they are fairly modular, allowing the player to continuously swap out one pedal for another until they find the tone that is in their head.
One disclaimer, however, that you will also hear echoed by countless players – and that is the tone of a great pedal cannot fix the tone of a bad amp. So make sure that you don't go out and buy all of these pedals, plug them into a Crate amplifier, and expect John Mayer tone. These pedals are best suited for a Dumble-style amplifier such as a Two-Rock or Ceriatone, and will also do a great job when used in conjunction with a solid Fender-style amp. If you're wondering what settings you should use on these pedals, check out the Mayer 2010 Rig Rundown on the Media page.
Overdrive & Boost
Easily the most important type of pedal you'll need is some kind (or kinds) or overdrive/boost pedal. This is what will push that glorious Dumble/Fender clean tone into the smooth overdrive that John Mayer is known for.
The most enduring pedal in the John Mayer lineup is the Tubescreamer, which is available in many varieties.
left to right: ts-808, ts-9, ts-10
John, as well as SRV, has been known to use all three of the main Tubscreamer pedals offered by Ibanez, the TS-10 (Japan model, not Tawain), TS-808, and TS-9. The TS-808 is the "original" model, and later came the TS-9 and TS-10. The TS-10 has repeatedly been John's particular choice, and is the only one of the three pedals that is no longer being manufactured. However, you can frequently find a TS10 on Reverb.com at a decent price, usually around $100 or so depending on condition. The TS-9 is the least popular among Mayer fans.
The key to the Tubescreamer is in how you use it. John Mayer himself summed it up best:
"I hear people all the time (I even remember hearing myself) who just dime the 'drive knob' and think the 'volume' is a master knob for it. It's a concept known as 'gain staging' – it has to do with the way that the volume of each part of your signal chain interacts with the next. The 'volume' knob of an 808 is the most important. That's by definition, the overdrive part of it. The 'overdrive' should be thought of as the 'cheat' knob…Just remember that turning that 'cheat' knob too high also cheats you of the natural tonal characteristics of your guitar. Do work that volume knob, though."
You can see what he is talking about by this snapshot of the TS-10 in his own rig rundown on the Media page. The gain is not set all that high, but the level is:
Also worth mentioning in the Tubescreamer category is the Fulltone Fulldrive 2.
Not only has Mayer used this pedal in the past, many players prefer it over an Ibanez model because of the added boost function. It's like getting two pedals in one.
There is another pedal famous for being a Mayer-tone-maker, and that is the original Marshall Bluesbreaker pedal.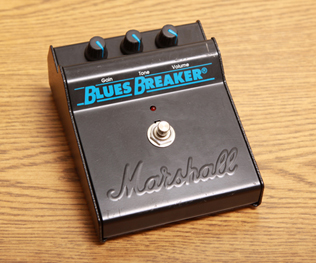 Don't be lured by the current version on the market, the Bluesbreaker 2. The one you want is the original Marshall Bluesbreaker from the 1990's. Sadly, it is no longer in production. But often you can
find one on Reverb.com
, and there are two companies,
Build Your Own Clone
and
General Guitar Gadgets
, who sell kits where you can build your own clone – although their accuracy has been questioned by many who have compared them to the original.
An even more rare pedal in the John Mayer arsenal is the Klon Centaur Professional Overdrive.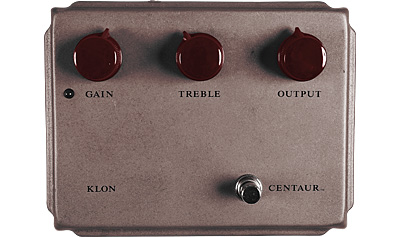 This picture is of the original version that was out of production for some time. Luckily, Klon is now making this pedal again with a new look. Most users report the Klon's strength as that of a clean boost, or in other words, something that boosts your volume without adding any overdrive. This technique works to overdrive an amplifier more naturally, and can be a great tool to thicken your tone. By itself however, being used as a clean boost, it will not overdrive your signal.
Though Mayer has used (and owns) countless overdrive pedals, there are two more that have showed up many times on his pedalboard that are worth mentioning. Luckily for us players, they are both still widely available.
The first is the Boss BD-2 Blues Driver.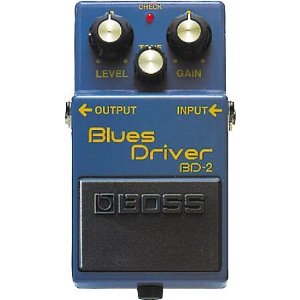 This has a slightly crunchier tone, and is a different style of overdrive from both the Tubescreamer and the Bluesbreaker. It is rumored that many of John's tones from his trio album come from the Blues Driver. The stock version isn't very expensive either, making it an easy addition to your board. John uses the Keeley modded version of this pedal.
The final pedal to consider is the Keeley Katana.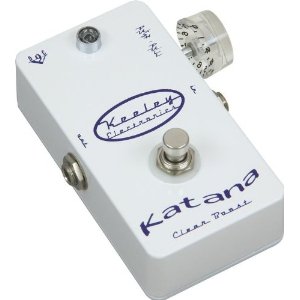 It is also more of a boost pedal than an overdrive, though it can overdrive your tone when used correctly. In John's words, when using it as a volume boost, "it's like having your own personal mixing engineer ride your fader." Very helpful.
Delay
This section will be a lot simpler, as Mayer primarily uses two delay pedals. The first is the Way Huge Aqua Puss, which has a max delay time of 300ms (about 1/3 of a second).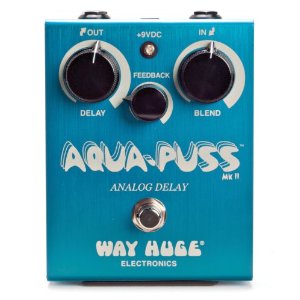 This pedal can be used as a slap back pedal, or also to thicken up tone. It is a great pedal, and is widely available.
The other delay pedal is the Eventide Timefactor.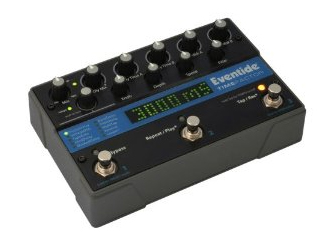 The Eventide has much more options, and can be crafted for longer delay times. Mayer has more than one, giving him the option of different delay times at the click of a footswitch.
In the past, John has also used the T-Rex Replica Delay pedal, which is another great sounding pedal with good delay options.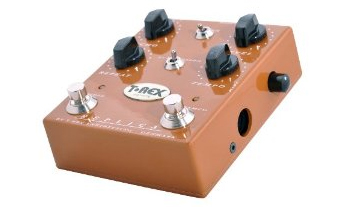 Miscellaneous
There are a variety of other pedals that Mayer uses that are worth noting. Most of them are used sparingly, but can still be important if you are looking to recreate some of John's signature tones and sounds on his albums.
One of the most interesting is the Roger Linn Design AdrenaLinn, version I, II, or III.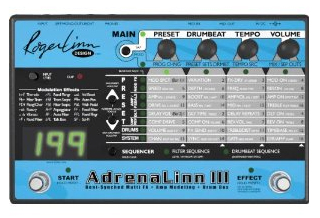 These are the pedals that give him the special effects you hear on "Bigger Than My Body", "I Don't Trust Myself With Loving You", and "Heartbreak Warfare". Again, these pedals are really only necessary if you wish to recreate these special sounds.
Another interesting pedal is the Electro Harmonix POG.
This is the pedal responsible for the organ tones at the beginning of "In Repair".
John also uses the Electro Harmonix Micro Synthesizer to give him an octa-fuzz tone, such as the tone heard during the solo on "Belief" on the "Where the Light Is" live album.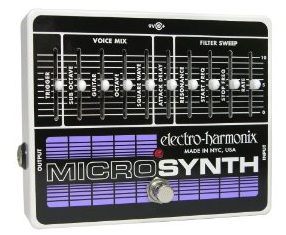 Lots of fans are talking about Mayer's wah pedal which has it's own EQ built in. It is a Real McCoy Custom RMC8 eqwahlyzer pedal.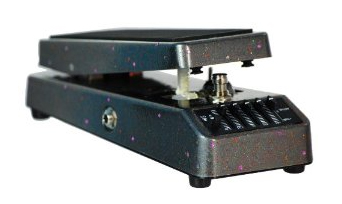 The onboard EQ means you can tailor the tone of the pedal, which can be very helpful.
Though most of Mayer's guitars are tuned backstage before each song, he also has several Boss tuners on stage in case he needs to tune mid-song. This is a very popular pedal used by countless players.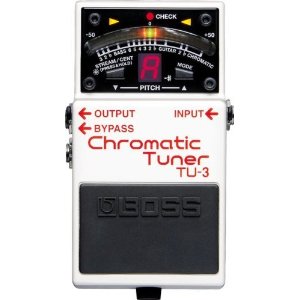 Finally, the Boss GE-7 Equalizer and Boss RT-20 Rotary Speaker Simulator have also been spotted on John's pedalboard.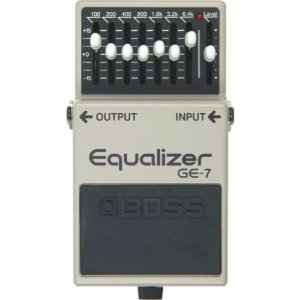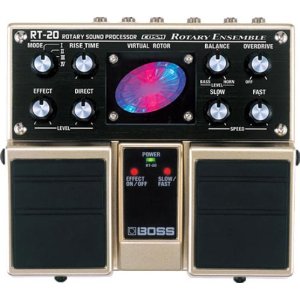 Well, that about sums up the majority of Mayer's most used pedals. Your overdrive pedals are going to be the most important, then the delay pedals. After that, just add what you want, depending on what you like to play. There are also many substitute pedals that can do the trick of some of these as well, such as using an auto-wah instead of the AdrenaLinn for the "I Don't Trust Myself" tones. Experiment, and good luck! And don't forget to get a home for all of those pedals. Though John uses a high-tech switching system for his big shows, he's also been seen many times over the years using a
Pedaltrain
– one of the simplest and best ways to keep your pedals organized: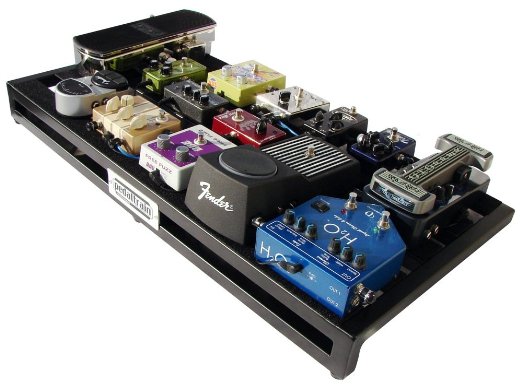 Other products you might enjoy…